A Leadership Poem to Remember!
Graeme Cooper
A Testimonial Wow! – A Poem that said it all!
A leadership outcome uniquely and intriguingly delivered
'International Airport slot management company, ACL, were faced with the departure of their MD, a lack of clarity around their future and a disunited senior management team. Corporate Battlefields were called in to help them develop purpose, mission and value statements, a strategy and – most important of all – to unite their leadership around a commonly held intent.
Interim MD, Mike Robinson, commented on the outcome of the Corporate Battlefields event
"At first it wasn't obvious how the learning from a battle fought as part of the English Civil War some 374 years ago could help ACL's new leadership team develop a future strategic direction. But Corporate Battlefields' unique context and methodology helped us to identify our strengths and weaknesses as a leadership team, forge a new purpose, mission, vision and values and lay the foundations of a strategy that I'm confident will take our 'New Model Army' to victory. If your own organisation is looking for a high impact way of solving these challenges, I couldn't recommend Corporate Battlefields highly enough."
But ACL went further than that ….. and the now united Leadership team read the following poem, that they composed, to the entire workforce as a way of launching the programmes which have stemmed directly from Corporate Battlefield's intervention:
A New Dawn: All for one and one for all (aka: We Believe in Fair Access)
The Leadership table was splintered, we'd agreed to disagree;
No one had a bloomin' clue, what the strategy was supposed to be;
A new MD appointed, with the old one out the door;
Mike knew a similar story, "the English civil war".
The Leadership Team fragmented, a ship that had no rudder,
"We need a team event" said Mike, and I let out a shudder,
We headed off to Newbury, the site of a famous battle,
In the middle of field; Clay Hill, avoiding all the cattle.
(actually that's a lie, there were deer, sheep and rabbits but no cows)
Site of conflict
Charles One he was the royal in charge, he had a simple plan,
He'd keep all of the power himself, Cromwell a broken man,
Parliament had no agreement, on what they should achieve,
They had no single purpose, in which they'd all believe
Different voices around the table, communication it was bad,
Worrying about their own concerns, it made the country sad,
Parliament was divided, the committee didn't gel,
Can you see the link with us? It was the same in ACL.
The Roundheads tried a pincer move, they'd have the King fenced in,
But no joined up fighting, meant that plan went in the bin,
Shaw House was in a central place, the battle moved to there,
The next place on our little tour, it was hard work, I swear!
Up the hill to Donnington, where the siege it did hold out,
The longest walk we had all day, played havoc with Mike's gout,
Despite the ropey start they had, the Roundheads they would win,
Now the LT must do the same, the hard work must begin
Consolidating the outcomes
We sat inside a meeting room, for hour upon hour,
Feedback it was open honest, we found Alasdair's super power,
We agreed things would be different, we'd become a better team,
The Leadership Team united; truly it's not a pipe dream.
Nicknames were discovered, terms we'd get accustomed to,
We've a Shortshanks and File Leader, we've got a Doctor Who,
But my favourite one of all, that came out of thin air,
Who wants to be Wonder Woman? Why, only Alasdair.
We moved on to the company, about what we want to be,
We agreed our mission and purpose, and it fit us to a T,
Our people are our greatest strength, you are our super star,
We won't need this reviewing, no need for V A R.
Values are important, they tell us who we are,
They ensure we support our purpose, allowing us to go far,
We heard what you have told us, its meaning was quite clear,
We built a great foundation, and then we had a beer.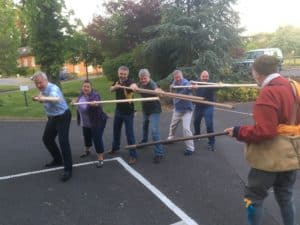 We headed to the car park, not knowing what's in store,
Some strange bloke dressed in stockings, who could have asked for more?
We became a pike file team, "advance" the battle cry,
We got it all together, before Richard lost an eye.
Finance does support us, IT gives us the tools,
Coordination is our day job, Regulation gives us the rules,
The LT is a bigger team, we've got a new HoC Rowell,
We're all agreed on everything, including paper towel.
Tony flips the switches, Jo makes the errors zero,
Alasdair meets the DfT, he is a super hero,
Dicky is the heart with which, Coordination beat,
Jon is getting stuck in, he's jumped in with both feet.
We're not living in the past, it's not 1644,
We know its Staines not Newbury, but we're different from before,
We're all for one and one for all, the reason that we're here,
Fair access we believe in, help us make it clear.
Let's get started all together, as emotions we try to stir,
Without your help to make it real, we'll be back to where we were,
The sky can be the limit, we know we will not fail,
Time to stand up and be counted, together we'll blaze a trail.
We're setting out our stall, your engagement will be key,
We need your commitment, passion and energy,
This is a call to arms, grab your musket, helmet and pike,
We're forming a New Model Army, make a pike file behind Mike.
Released with permission from ACL
Would your organisation benefit from a similar intervention?

Developing business people, through battlefield insight