Our business facilitators are experienced at board and senior executive level and from the outset are responsible to the client CEO for constructing and delivering the programme based on the client's outcome requirements.

Andrew Stuart
With a degree in Economics from The University of Warwick, Andy Stuart held a Short Service Commission in the Royal Artillery serving in Germany and Northern Ireland. He obtained an MBA in 1992 also through Warwick. A 25-year senior management career in financial markets in the City followed. He worked at Board Director level with a number of global banking groups (Flemings, Barclays, Fortis), establishing, relaunching and reorganising different businesses and operations. He has also established a number of entrepreneurial ventures. His leadership experience and focus covers the small unit interpersonal through to the complex multi-national strategic. He is a Member of the IoD.
Chris Burton
Having studied Chemistry at Oxford University, Chris had a 20 year international career with Mars in Sales, Marketing and General Management. He holds a Masters qualification in Coaching & Development and is noted for his skill in developing teams and leaders, He combines working for Corporate Battlefields with his work as a business coach in business, education and sport. Chris facilitated the business workshops to Albatross and eBay senior management teams in 2012 at the Apache Attack Helicopter School, Wattisham and on Omaha Beach, Normandy respectively.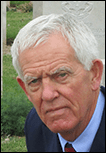 Colonel (Ret'd) Peter Fraser-Hopewell CMG MBE
Peter has been in leadership positions, and responsible for developing leadership skills in others, for over 40 years.   Initially in the Army, including in four major conflict areas, and command of a SAS Regiment.  Then, on leaving the Army, for 10 years within a multinational business, as Head of Group Security, operating at the senior corporate level reporting direct to the CEO and board.  He has utilised this experience to develop his own skills and views on what leadership is about; putting this into practice often in situations where the consequence of failure, military and business, was severe.   His own leadership qualities have been recognised 5 times in the Armed Forces Operational Awards list.
David Learmond
David spent over 20 years as a Senior International HR Executive with Unilever PLC, including positions such as SVP and HR Director for Greater China, HR Director for Unilever Australasia and Head of HR in Global Research and Development. He combines his coaching interests with work for the Conference Board, facilitating meetings with senior executives worldwide. David now brings his substantial experience to the Corporate Battlefields team as an event facilitator, with whom he has facilitated Events for NATO, BAE Systems and The Conference Board Europe at Waterloo and Albatross at the Apache Attack Helicopter School, Wattisham.

Clive Steeper
Clive brings over 25 years of experience of successful leadership in high growth and innovative business. This experience, when combined with time spent in elite sports and his work as an executive coach means he offers insights into performance, business leadership and teamwork that can help unlock new performance for businesses and leaders. Clive has worked and lived in USA, SE Asia and is an author and highly respected speaker and facilitator.