Our business facilitators are experienced at board and senior executive level and from the outset are responsible to the client CEO for constructing and delivering the programme based on the client's outcome requirements.

Steve Bird - Business Facilitation Director, Corporate Battlefields
Steve has spent his career in a variety of Human Resources roles, starting with Ford, Glaxo and NatWest before moving on to high profile Group HR Directorships for Australian property giant, Lend Lease and UK's Trinity Mirror media group. Latterly Steve was based in The Hague with Maersk, the Danish conglomerate, where he had global HR responsibility in their rapid growth ports sector. Steve now works regularly with Corporate Battlefields, and has delivered programmes to a number of key clients where he married his in-depth knowledge of the corporate world with a wide understanding of 'Mission Command'.
Chris Burton
Having studied Chemistry at Oxford University, Chris had a 20 year international career with Mars in Sales, Marketing and General Management. He holds a Masters qualification in Coaching & Development and is noted for his skill in developing teams and leaders, He combines working for Corporate Battlefields with his work as a business coach in business, education and sport. Chris facilitated the business workshops to Albatross and eBay senior management teams in 2012 at the Apache Attack Helicopter School, Wattisham and on Omaha Beach, Normandy respectively.

Andrew Gee
Andrew is a senior management consultant, with a wealth of international hands-on experience in both the public and private sectors. He has worked on Board level projects in the UK, the USA, China, Switzerland and elsewhere, with numerous companies and institutions including ABB, Swiss Re, Kingfisher and PwC. He has led projects in Strategic Planning, Executive Compensation, Change Management and Shareholder Value and he is expert in linking Strategic Analysis and Corporate Finance. He runs a boutique international consulting business and is currently Chief Financial Officer of Sunbird Bioenergy Limited, a company with a portfolio of sustainable biofuel projects in Africa.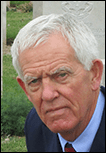 Colonel (Ret'd) Peter Fraser-Hopewell CMG MBE
Peter has been in leadership positions, and responsible for developing leadership skills in others, for over 40 years.   Initially in the Army, including in four major conflict areas, and command of a SAS Regiment.  Then, on leaving the Army, for 10 years within a multinational business, as Head of Group Security, operating at the senior corporate level reporting direct to the CEO and board.  He has utilised this experience to develop his own skills and views on what leadership is about; putting this into practice often in situations where the consequence of failure, military and business, was severe.   His own leadership qualities have been recognised 5 times in the Armed Forces Operational Awards list.
Sue Stockdale
Sue has a unique combination of business and expedition experience which she draws on to help clients gain insight and learning on the mission execution of strategic leadership. Her career included a senior management role in British Gas, and a period with the United Nations in the former Yugoslavia, as well as now being an entrepreneur. Sue is the first British woman to ski to the Magnetic North Pole, and has represented Scotland in Track and Field Athletics. She has an MBA in Entrepreneurship and MSc in Quality Management and is an Accredited Professional Coach and Facilitator.
David Learmond
David spent over 20 years as a Senior International HR Executive with Unilever PLC, including positions such as SVP and HR Director for Greater China, HR Director for Unilever Australasia and Head of HR in Global Research and Development. He combines his coaching interests with work for the Conference Board, facilitating meetings with senior executives worldwide. David now brings his substantial experience to the Corporate Battlefields team as an event facilitator, with whom he has facilitated Events for NATO, BAE Systems and The Conference Board Europe at Waterloo and Albatross at the Apache Attack Helicopter School, Wattisham.

Clive Steeper
Clive brings over 25 years of experience of successful leadership in high growth and innovative business. This experience, when combined with time spent in elite sports and his work as an executive coach means he offers insights into performance, business leadership and teamwork that can help unlock new performance for businesses and leaders. Clive has worked and lived in USA, SE Asia and is an author and highly respected speaker and facilitator.